"Since I came to the White House, I've gotten two hearing aids, had a colon operation, a prostate operation, skin cancer, and I've been shot ... damn thing is, I've never felt better."
RONALD REAGAN
,
Speaking My Mind
Prostate cancer
is one of the most common types of cancer in men. It is initially confined to the prostate gland. Most types grow slowly and need minimal or no specific treatment. Some are aggressive and spread quickly. If the cancer is confined to the prostate gland and detected early, it has a better chance of successful treatment.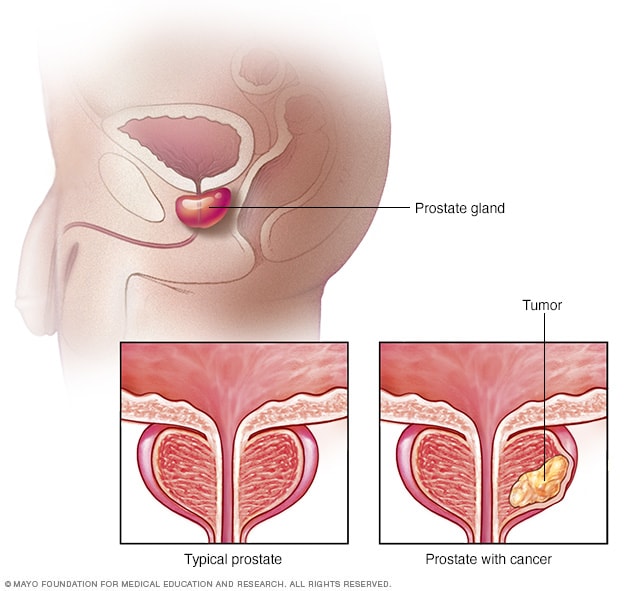 Symptoms
include difficulty with urinating, decreased urine voiding, pelvic bone pain, erectile dysfunction, decreased force in the stream of urine, blood in the semen, pelvic discomfort, bone pain pelvis, and erectile dysfunction.
To confirm the diagnosis, a blood sample is drawn from an arm vein to detect PSA (Prostate Specific Antigen). PSA is a biomarker for the presence of prostate cancer.

Men with a PSA level between 4 and 10 have about a 1 in 4 chance of having prostate cancer. If the PSA is more than 10, the chance of having prostate cancer is over 50%.
The evaluation includes a prostate biopsy to collect tissue that may be cancerous. A prostrate tissue biopsy detects the presence of cancer cells.
Factors that increase prostate cancer include:
·
Race.
Black men have a greater risk of prostate cancer than do men of other races. In black men, prostate cancer is also more likely to be aggressive or advanced.
·
Family history.
Family history is a risk factor. Presence of men in your family who have had prostate cancer increases your risk.
·
Obesity.
Obese men diagnosed with prostate cancer may be more likely to have advanced disease that's more difficult to treat.
Complications
of prostate cancer and its treatments include:
·
Prostate cancer may spread to nearby organs, such as the bladder. it may affect the bloodstream or lymphatic system.
·
Prostate cancer that spreads to the bones can cause pain and bone fracture.
·
When prostate cancer has spread to other areas of the body, it may respond to treatment and may be controlled.
·
Both prostate cancer and its treatment can cause urinary incontinence.
·
Erectile dysfunction can result from prostate cancer or its treatment.
Surgery, radiation and hormone therapy are common ways of treating prostate cancer. Surgery is usually the last resort.
Surgery
for prostate cancer involves removing the prostate gland (radical prostatectomy), surrounding tissue and lymph nodes. Radical prostatectomy carries a risk of urinary incontinence and erectile dysfunction.
Cryosurgery or cryoablation involves freezing tissue to kill cancer cells. During cryosurgery for prostate cancer, small needles are inserted in the prostate using ultrasound images as guidance. A very cold gas is placed in the needles, which causes the surrounding tissue to freeze. A second gas is then placed in the needles to reheat the tissue. The cycles of freezing and thawing kill the cancer cells and some surrounding healthy tissue. Cryosurgery is more frequently used in patients who have failed primary radiation therapy for prostate cancer.
Radiation therapy
uses high-powered energy to remove cancer cells. Prostate cancer radiation therapy can be delivered in two ways external beam radiation and radiation placed inside your body (brachytherapy). Brachytherapy involves placing many rice-sized radioactive seeds in your prostate tissue.
·
The radioactive seeds deliver a low dose of radiation over a long period of time.
·
Radioactive seeds in your prostate using a needle guided by ultrasound images. The implanted seeds stop emitting radiation eventually and don't need to be removed.
Side effects of radiation include painful, frequent or urgent urination, as well as rectal symptoms such as loose stools or pain when passing stools. Erectile dysfunction can occur.
Hormone therapy
is a treatment to stop your body from producing the male hormone testosterone. Cutting off the supply of testosterone may cause cancer cells to die or to grow more slowly.
Hormone therapy options include:
·
Medications known as luteinizing hormone-releasing hormone (LH-RH) agonists prevent the testicles from receiving messages to make testosterone. Drugs typically used in this type of hormone therapy include leuprolide (Lupron, Eligard), goserelin (Zoladex), triptorelin (Trelstar) and histrelin (Vantas).
·
Medications known as anti-androgens prevent testosterone from reaching your cancer cells. Examples include bicalutamide (Casodex), nilutamide (Nilandron) and flutamide.
Hormone therapy is used in men with advanced prostate cancer to shrink cancer and slow the growth of tumors. In men with early-stage prostate cancer, hormone therapy may be used to shrink tumors before radiation therapy, which can increase the likelihood that radiation therapy will be successful....
Side effects of hormone therapy may include erectile dysfunction, hot flashes, loss of bone mass, reduced sex drive and weight gain.
Chemotherapy
uses drugs to kill rapidly growing cells, including cancer cells. Chemotherapy is administered through a vein in your arm, in pill form or both.
Chemotherapy may be a treatment option for men with prostate cancer that has spread to remote body locations. Chemotherapy may also be an option for cancers that don't respond to hormone therapy.
Biological therapy
(immunotherapy) uses your body's immune system to fight cancer cells. One type of biological therapy called sipuleucel-T (Provenge) has been developed to treat advanced, recurrent prostate cancer.
This treatment takes some of your own immune cells, genetically engineers them in a laboratory to fight prostate cancer, then injects the cells back into your body through a vein. Some men do respond to this therapy with some improvement in their cancer, but the treatment is very expensive and requires multiple treatments.
In conclusion
, prostate cancer is one of the most common types of cancer in men. Usually, prostate cancer grows slowly and is initially confined to the prostate gland, where it might cause serious harm. In most cases. prostate cancer does not require aggressive or immediate treatment, such as a stroke would. There have to be criteria for removing the prostate gland, such as when you have had pain in the pelvis for years and the cancer cells are invading the bone tissue. This would be a late stage treatment. You can live without a prostate. We do not have the statistics for mortality rate for diagnosed prostate cancer. There are many survivors, such as former president Reagan.